Appears in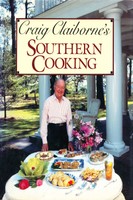 Ingredients
1 cup quick-cooking or regular grits
2 cups milk
2 cups water
Salt to taste, if desired
Freshly ground pepper to taste
¼ teaspoon grated nutmeg
½ teaspoon Tabasco sauce, or to taste
⅓ pound sharp Cheddar cheese, grated (about 1¾ cups)
6 large eggs, separated
Method
Generously butter a 2-quart soufflé dish and place it in the freezer until ready to use.
Cook the grits in the milk and water according to package directions. Add salt to taste.
As the grits cook, preheat the oven to 425 degrees.
When the grits are cooked, scrape them into a mixing bowl. Add pepper, nutmeg, and Tabasco. Stir in all but ½ cup grated cheese.
Let cool slightly and add the egg yolks, stirring until well blended. Beat the whites until stiff. Add half the whites to the grits mixture and beat them in. Fold in the remaining whites, using a rubber spatula.
Spoon the mixture into the prepared soufflé dish and smooth over the top. Sprinkle with the remaining ½ cup cheese. Place in the oven and bake 25 minutes, or to the desired degree of doneness. Serve immediately.