Appears in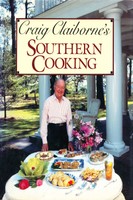 Ingredients
1 pound mushrooms, preferably large ones (about 12 to a pound)
3 tablespoons butter
1 tablespoon flour
½ cup milk
Salt to taste, if desired
Freshly ground pepper to taste
½ cup finely chopped scallion(s)
⅓ pound crabmeat
1 tablespoon Cognac
1 egg yolk
Tabasco sauce
3 tablespoons butter, melted
¼ cup grated Parmesan cheese
Method
Preheat the oven to 400 degrees.
Remove the stems and reserve the caps from the mushrooms. Chop the stems. There should be about 1 cup.
Melt 1 tablespoon butter in a saucepan and add the flour, stirring with a wire whisk. When blended, add the milk, stirring rapidly with the whisk. When blended and smooth, add salt and pepper to taste.
In another saucepan, heat the remaining 2 tablespoons butter and add the scallions and chopped mushroom stems. Cook, stirring, 4 minutes. Add the crabmeat, stir to blend, and add the Cognac. Add the white sauce and salt and pepper to taste. Blend. Add the egg yolk and Tabasco sauce to taste.
Place the mushrooms, hollow side down, in a buttered baking dish. Brush with half the melted butter and place in the oven for 10 minutes. Remove. Let cool.
Stuff the cavity of each mushroom with the crab mixture, heaping it up and smoothing it over. Arrange the mushrooms in the baking dish and sprinkle with Parmesan cheese and the remaining melted butter. Place in the oven and bake 20 minutes.