Appears in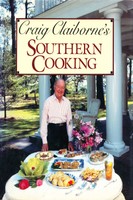 Ingredients
6 egg yolks
1 cup sugar
4 cups milk
1 cup heavy cream
1 vanilla bean, or 2 teaspoons pure vanilla extract
Method
Put the yolks and sugar in a heavy saucepan. Beat with a wire whisk until pale yellow.
In another saucepan combine the milk and cream. If the vanilla bean is used, split it down 1 side and add it. Bring just to the boil.
Add about ½ cup of the hot mixture to the egg yolk mixture and beat rapidly. Add the remaining hot mixture, stirring rapidly. Scrape the tiny black seeds from the center of the vanilla bean into the custard. Heat slowly, stirring and scraping all around the bottom with a wooden spoon. Bring the mixture almost, but not quite, to the boil. The correct temperature is 180 degrees. This cooking will rid the custard of the raw taste of the yolks.
Pour the mixture into a cold mixing bowl to prevent it from cooking further. Let stand until cool or at room temperature. If the vanilla bean is not used, add the vanilla extract at this point.
Pour the mixture into the container of an electric or hand-cranked ice cream freezer and freeze according to the manufacturer's instructions.