Appears in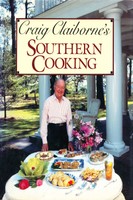 Ingredients
1 cup heavy cream
2 cups milk
4 egg yolks
1 cup sugar
Salt to taste, if desired
1 teaspoon pure vanilla extract
1 cup peeled, pitted, and crushed ripe peaches
Method
In a saucepan with a heavy bottom, combine the cream, milk, egg yolks, ½ cup sugar, salt, and vanilla. Cook over low heat or in a double boiler, stirring constantly with a wooden spoon all around the bottom to make sure the custard does not stick.
Continue cooking and stirring until custard is as thick as heavy cream (180 degrees). This cooking will rid the custard of the raw taste of the yolks. Remove the custard from the heat at once, stirring constantly for a minute or so. Let cool.
To the peaches add the remaining ½ cup sugar. Stir to dissolve. Add this to the custard.
Pour the mixture into the container of an electric or hand-cranked ice cream freezer and freeze according to the manufacturer's instructions.