Appears in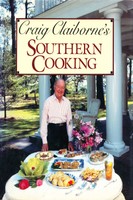 Ingredients
4 egg yolks
2 cups plus 1 tablespoon sugar
4 cups milk
1 cup water
2 pints strawberries, hulled and rinsed
1 cup heavy cream
Method
Place the yolks in a large saucepan and add 1 cup sugar. Beat with a wire whisk until light and lemon-colored.
Meanwhile, bring the milk almost but not quite to the boil.
Gradually add the milk to the yolk mixture, beating constantly. Use a wooden spoon and stir constantly, this way and that, making certain that the spoon touches all over the bottom of the saucepan. If a thermometer is available, cook to 180 degrees and remove from the heat. If a thermometer is not available, cook the sauce until it becomes like a very thin custard. This cooking will rid the custard of the raw taste of the yolks. Immediately pour and scrape the sauce into a mixing bowl to prevent further cooking. Let cool.
Meanwhile, put the water in a saucepan and add 1 cup sugar. Stir and bring to the boil. Simmer 10 minutes and remove from the heat. Let cool.
Put the strawberries into the container of a food processor or an electric blender and blend thoroughly. Combine the strawberries with the sugar syrup and the custard.
Whip the cream and before it is stiff beat in the remaining 1 tablespoon sugar. Fold the cream into the strawberry mixture. Pour the mixture into the container of an electric or hand-cranked ice cream freezer and freeze according to the manufacturer's instructions.