Appears in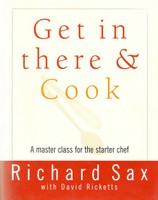 Ingredients
2 salmon fillets or steaks (6 to 8 ounces each)
3 tablespoons soy sauce, preferably reduced-sodium
Juice of ½ lime or lemon
5 or 6 thin slices peeled fresh ginger
2 garlic cloves, smashed
Small pinch of dried red pepper flakes
Lime wedges, for serving
Method
To marinate the fish, arrange the fillets or steaks in a shallow ceramic or glass dish just large enough to hold the fillets snugly in 1 layer. Combine the soy sauce, lime juice, ginger, garlic, and pepper flakes in a small bowl; pour over the fish. Turn the fish over to coat with the marinade. Cover the dish with plastic wrap and let stand for 15 to 30 minutes at room temperature or 1 hour refrigerated, turning the fish over once or twice. (If you like, the fish can be marinated for up to 3 or 4 hours.)
Preheat the broiler with the rack about 4 inches from the heat source. Transfer the fish fillets to a broiler pan (disposable ridged foil pans are great for this—no cleanup, although I have started to recycle them), spooning a little of the liquid marinade over the salmon. Broil (without turning), basting once or twice with the marinade, until the salmon is glazed a nice golden brown and the fish is just set when pressed gently, but still moist; if you cut into the center, the flesh should be just opaque, not translucent. This should take about 8 minutes, though timing can vary depending on the thickness of the fillets—do not overcook. (Figure approximately 10 minutes cooking time, regardless of cooking method, for each 1 inch of thickness; however, begin checking for doneness a few minutes before the estimated finish.)
Transfer the fish to heated serving plates. Pour a little of the broiler pan juices over each piece and serve hot, garnished with a lime wedge. Discard any of the remaining marinade, since the raw fish has soaked in it.