Appears in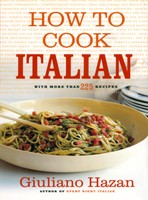 Ingredients
1 medium clove garlic
1 pound ripe tomatoes
3 tablespoons extra virgin olive oil
2 pounds large sea scallops
Salt
Freshly ground black pepper
12 fresh basil leaves
Method
Peel and finely chop the garlic. Peel the tomatoes and coarsely chop.
Put the olive oil in a 10-inch skillet and place over medium-high heat. When the oil is hot, add half the scallops and lightly brown on both sides, 1 to 2 minutes for each side. Set aside on a platter and repeat with the remaining scallops. When all the scallops are done, season them with salt and pepper.
Add the garlic to the skillet and sauté for less than 1 minute. As soon as the garlic begins to color, add the tomatoes and season lightly with salt. Cook until the tomatoes are reduced and no longer watery, 10 to 15 minutes.
While the tomatoes are cooking, shred the basil with a knife. After the tomatoes have cooked for 5 minutes, add the basil. When the tomatoes are done, return all the scallops to the pan and turn them in the sauce for about 1 minute, just long enough for them to reheat. Serve at once.