Appears in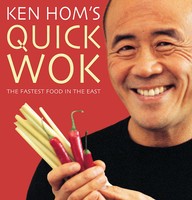 Preparation Time: 10 Minutes
Cooking Time: 20-25 Minutes
Ingredients
225g (8 oz) potatoes
225g (8 oz) carrots
1 tablespoon groundnut (peanut) oil
1-2 tablespoons Thai green curry paste, to taste
400 ml (14 fl oz) tin coconut milk
3 tablespoons fish sauce or light soy sauce
salt, to taste
2 teaspoons lime zest
2 teaspoons sugar
300 ml (10 fl oz) home-made chicken stock or quality store-bought fresh stock
450g (1 lb) minced lamb
handful fresh basil leaves
Method
Peel the potatoes and cut into 2.5cm (1 in) cubes. Peel the carrots and roll-cut them into 2.5cm (1 in) lengths.
Heat a wok over high heat until it is hot. Add the oil, and when it is very hot and slightly smoking, add the curry paste and stir-fry for 20 seconds.
Slowly drizzle in the coconut milk, stirring continuously until blended. Then add the fish sauce or soy sauce, salt, lime zest, sugar and stock. Stir until blended.
Finally, add the lamb, potatoes and carrots. Turn the heat down to low, cover the pan or wok, and simmer for 15-20 Minutes, or until the vegetables are tender.
Toss in the basil and stir to mix well.
Turn onto a warm platter and serve at once.
© 2002 Ken Hom. All rights reserved.