Appears in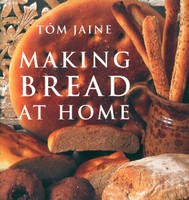 Ingredients
225 g/8 oz masa harina
300 ml/10 fl oz tepid water
Method
Mix the masina harina and water in a bowl, and bring together to a softish dough. Getting the right texture is all-important and will come with experience. Too wet and the tortilla will stick to hand, table or tortilla press; too dry and the dough will not hold together while you attempt to make it thin and broad. Old Latin American hands claim that the amount of water will vary according to the freshness of the masa harina, and even the state of the weather.
Divide the ball of dough into 12 pieces and roll these into small balls between the palms of your hands. This dough will not suffer from any amount of handling. Press each ball to make a small disc, then slap from hand to hand to extend it. Alternatively, place the disc on a clean surface (formica, for instance) and press it with the flat of a palette knife, turning it over at regular intervals to ensure it does not stick to the work surface. Continue until you achieve a tidy disc between 12.5 and 15 cm/5 and 6 inches in diameter.
Heat a dry griddle over medium heat, slip the discs on to the griddle and cook them on both sides, turning when the edges start to curl and the surface is flecked with brown. The Maya cooked them on flat stones heated in the fire, or on clay griddles called comales. As they cook, pile them one on the other between a clean cloth. Eat them warm, but they also can be reheated.