Appears in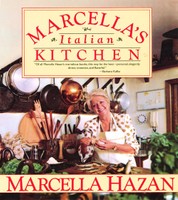 Ingredients
1½ pounds fresh, small, young zucchini, soaked in cold water for 20 minutes
1 pound fresh, ripe tomatoes
⅓ cup extra virgin olive oil
½ cup chopped onion
1 tablespoon chopped garlic
3 ounces boiled, unsmoked ham chopped fine
Salt
Black pepper in a grinder
¼ pound fontina, chopped
⅔ cup freshly grated parmigiano-reggiano (Parmesan)
Butter for smearing the baking dish and dotting
A 9- by 12-inch oven-to-table baking dish or its equivalent
The crepes from the basic fazzoletti recipe
Method
Drop the tomatoes in a pot of boiling water. Drain after 1 to 2 minutes and, when cool enough to handle, peel and cut up coarse.
When the zucchini have finished soaking, drain and rub their skin with your hands or a rough cloth to dislodge all embedded grit. Cut off both ends from each zucchini and dice the zucchini into ½-inch cubes.
Choose a sauté pan that can subsequently accommodate all the zucchini without crowding, put in the oil and chopped onion, and turn on the heat to medium.
When the onion becomes colored a pale gold, add the garlic. When the garlic becomes colored a pale gold, add the chopped ham. Stir 2 or 3 times, then add the zucchini and turn up the heat to medium high. Cook the zucchini, stirring frequently, until they are nicely browned. Add salt and several grindings of pepper.
Add the tomatoes, turn up the heat to high, and cook, stirring frequently, until the oil separates and floats free, about 15 minutes or so.
Transfer the entire contents of the pan to a bowl, adding the fontina and half the grated cheese. Mix until all the ingredients are thoroughly combined.
Turn on the oven to 450°F.
Butter the bottom and sides of the baking dish.
Stuff, fold, and bake the fazzoletti as described in steps 6, 7, and 8 of the preceding recipe.