Appears in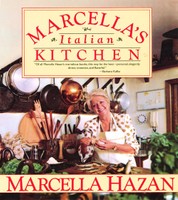 Ingredients
4 tablespoons butter, plus additional butter for smearing the baking dish
3 tablespoons onion chopped very fine
½ pound ground veal from any inexpensive cut with a little fat in it
3 ounces boiled, unsmoked ham chopped fine
Salt
Black pepper in a grinder
½ cup heavy cream
⅛ teaspoon grated nutmeg
3 tablespoons chopped parsley
⅔ cup freshly grated parmigiano-reggiano (Parmesan)
A 9 by 12 oven-to-table baking dish or its equivalent
The crepes from the basic fazzoletti recipe
Method
Put 2 tablespoons of the butter and all the onion in a sauté pan and turn on the heat to medium. When the onion becomes colored a pale gold, add the ground veal. Crumble it with a fork and turn it over as it cooks, until it is evenly browned. Add the chopped ham and brown it as well. Add salt, liberal grindings of pepper, and stir. Add the cream and reduce it only partly, stirring frequently. The consistency of the stuffing should be fairly moist. Turn off the heat and add the nutmeg, parsley, and half the grated cheese. Mix well.
Turn on the oven to 450°.
Butter the bottom and sides of the baking dish.
Stuff, fold, and bake the fazzoletti as described in steps 6, 7, and 8 of the first recipe on the preceding page.