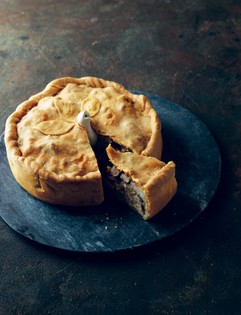 Appears in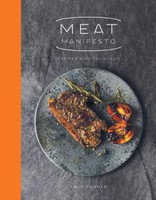 Ingredients
For the Pastry
1 cup lard, chilled, cubed
4½ cups cake flour
½ tsp sea salt
egg, lightly beaten
Method
For the Pastry
In a mixing bowl, rub the lard into the flour until small clumps form.
Add salt and 1 cup of warm water, stirring until dough forms. Add more water or flour, kneading as you work. It should easily hold together and still feel moist.
Shape into a ball, wrap in plastic clingwrap and refrigerate for 1 hour.
For the Filling
In a large, deep pot on the stovetop, heat the olive oil and bring the trotters, shoulders, belly and bones, peppercorns, onion, carrot, celery, bay leaves, parsley and enough water to cover it all, to a boil.
Reduce heat and simmer, covered, for 1 hour.
Strain the liquid through a fine sieve and reserve the meat and spice mixture, discarding the trotters and bones.
Reduce the cooking liquid for a further 20–25 minutes. Cool.
Meanwhile, in a deep bowl, toss together the par-cooked shoulder and belly along with the bacon, salt, cumin, cayenne pepper, nutmeg, mace and white and black pepper. Cool.