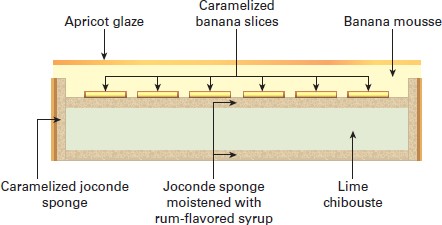 Appears in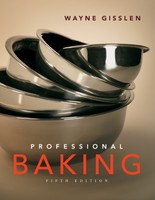 Method
Procedure
Line a 6½-in. (16 cm) ring mold with a strip of acetate.
Cut two 6-in. (15 cm) circles from a sheet of joconde sponge. Cut one strip of joconde to line the side of the ring mold, making it slightly narrower than the height of the ring so the filling will show above it. Caramelize the sponge strip and circles according to the procedure.
Brush the caramelized sponge strip and circles with rum syrup. Line the mold with the strip of sponge and place it on a cake card. Place one sponge circle in the bottom.
Prepare the lime Chiboust. Before it sets, use it to fill the ring nearly half full, then place the second sponge circle on top and press down gently.
Arrange the banana slices on top of the sponge.
Prepare the banana mousse. Before it sets, fill the mold to the top and level it with a palette knife.
Place in the freezer for 45 minutes to set.
Place a decorative stencil on top of the cake and spray with a chocolate sprayer.
Coat the top with apricot glaze.
Garnish as desired. The cake in the illustration is garnished with 2 chocolate fans and slices of lime and banana coated with apricot glaze.