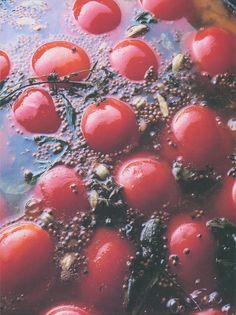 Appears in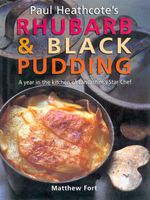 Ingredients
4 fillets of turbot, each about 175 g / 6 oz
12 shelled scallops
lemon juice
Method
Well ahead, make the spiced tomatoes: preheat the oven to 150°C/300°F/gas 2. Spread the seasonings over the base of a tray. Lay the tomato halves on top, skin-side up, and three-quarters cover with the oil. Cook in the low oven for 30 minutes, until the tomato skins are easily removed. Leave to cool slightly and remove all skins and any pips. Put the tomatoes in a clean container and cover with the olive oil (this oil becomes tomato-flavoured and can be used for salad dressings later).
About 45 minutes before you want to serve, make the Fondant Potatoes: put the potato slices in a heavy-based pan and cover with water. Add the butter and seasoning. Bring to the boil and boil rapidly until all the water has evaporated and only butter is left. Turn down the heat and cook until golden. Turn the slices over and cook the second side until golden. Remove from the pan and keep warm.
While the potatoes are cooking, prepare the Braised Chard: preheat the oven to 190°C/375°F/gas 5 and peel the chard stems. Cut them into 4-cm / 1½-inch batons and place them in a pan with the rest of the ingredients. Bring to the boil, cover with a lid and place in the oven for about 30 minutes, until the chard is soft. Keep warm.
Meanwhile, make the Orange Butter Sauce: in a small heavy-based pan, sweat the shallots in the butter. Add the orange zest and juice, the vinegar and wine, and reduce down until only about one-fifth of the volume remains. Add the cream and whisk in the cold butter. Season with lemon juice, salt, pepper and cayenne pepper.
About 10 minutes before you want to serve, char-grill the turbot fillets on a preheated hot griddle pan for about 4 minutes on one side and then turn over and cook the other sides for about 30 seconds to 1 minute only, until the fillets are cooked but still moist in the centre. Season with salt and lemon juice. Keep warm.
Put a little oil in a hot frying pan. When that is hot, cook the scallops on one side to get them golden-brown and caramelized. Turn them over and cook for a few seconds more. Season with salt and lemon juice.
To serve: arrange some chard in the centre of 4 warmed serving plates. Arrange tomatoes on either side of the chard and place the fish on top of the chard. Put some fondant potato at the top of each plate and some scallops at the bottom. Spoon the sauce around the plates.