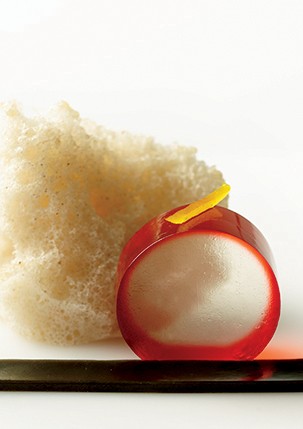 Appears in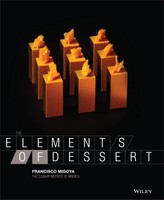 Ingredients
Pain d'Épices Spice Mixture
Ground cinnamon 5 g .18 oz 33.33%
Ground ginger 3 g .12 oz 23.33%
Ground nutmeg 1 g .04 oz 6.67%
Ground cloves 1 g .04 oz 6.67%
Black pepper, freshly ground 1 g .04 oz 6.67%
Ground anise seeds 2 g .07 oz 13.33%
Orange zest 1 g .05 oz 10%
Bubbles
Skim milk 150 g 5.29 oz 68.73%
Pain d'épices spice mixture 2 g .09 oz 1.15%
Sugar 20 g .71 oz 9.16%
Acacia honey 45 g 1.59 oz 20.62%
Xanthan gum 1 g .03 oz .34%
Method
For the spice mixture: Combine the cinnamon, ginger, nutmeg, cloves, black pepper, anise seeds, and orange zest in a coffee grinder and grind until you obtain an even mix. Reserve in an airtight container at room temperature for up to 6 months.
You will need a 2.1-L/2.25-qt vacuum canister, also known commercially as a Quick Marinator (see Resources). Lightly spray the interior of the canister with a coat of nonstick oil and line the inside of the canister with plastic wrap. Turn the dial on the lid to "vacuum."
For the bubbles: Combine the milk, spice mixture, sugar, and honey in a blender cup and blend until it becomes an even mixture.
Pour the xanthan gum in slowly on medium speed. Let it hydrate while mixing for 1 minute.
Pour the mixture into the vacuum canister, and put the lid on it. Vacuum seal it on medium using a Cryovac machine. This will expand the bubbles trapped in the liquid and will fill the canister to capacity. Turn the dial on the lid to "closed."
Place in a freezer until hardened. The hardening time depends on the quality of the freezer; if available, use a blast freezer.
Reserve frozen for service; the servings will be cut to order. As long as it is kept covered, it can be used for up to 3 days.