Appears in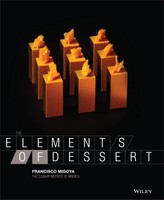 Ingredients
Coffee 1 kg 2 lb 3.2 oz
Distilled coffee 500 g 1 lb 1.64 oz 75.9%
Sugar 150 g 5.29 oz 22.77%
Gellan gum, low acyl 3 g .1 oz .43%
Calcium lactate 6 g .21 oz .91%
Pomegranate juice 1 L 1.04 qt
Method
Place the coffee in the distiller (see Resources) and distill completely. Ideally this should be very strong coffee. A French press will provide the strongest brew. Espresso, while it may seem like a good idea, will result in a very bitter product.
Reserve the resulting liquid in the refrigerator for up to 5 days.
Place 10 cylindrical glasses that have a diameter of 4 cm/1.5 in and are at least 5 cm/2 in tall on a flat surface. It is imperative that the glasses be straight and not tapered at the base in order to obtain an even cylinder. They should also have a flat bottom (not concave).
Combine the distilled coffee and sugar in a small sauce pot and whisk to dissolve the sugar. Adjust the sweetness as necessary. Stir the gellan gum and calcium lactate into the liquid while it is cold.
Bring to a boil to hydrate the gum and dissolve the calcium, and let boil for 5 seconds.
Remove from the heat and pour into the glasses, filling each one with about 60 g/2.12 oz. Refrigerate.
Once set, remove the jelly from the glasses very carefully. Reserve in the refrigerator and discard after 1 day.
Place the gelled coffee in a one-sixth pan with the pomegranate juice and soak for 1 hour.
Remove the gelled coffee from the juice and pat it dry with a clean paper towel.