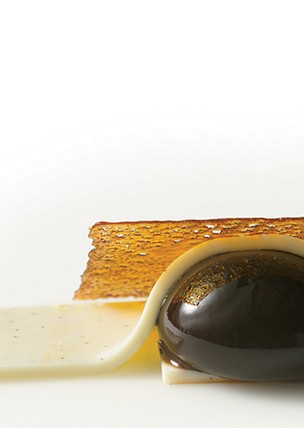 Appears in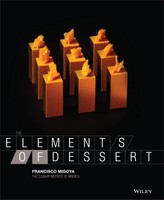 Ingredients
Chocolate Base
Water 80 g 2.82 oz 37.21%
Sugar 60 g 2.12 oz 27.91%
Cocoa powder 25 g .88 oz 11.63%
Heavy cream 50 g 1.76 oz 23.26%
Encapsulating Gel
Water 625 g 22.05 oz 89.29%
Sugar 50 g 1.76 oz 7.14%
Genutine 400-C (see Note) 25 g .88 oz 3.57%
Simple syrup, at 50° Brix, chilled 200 g 7.05 oz
Method
For the chocolate sauce: Boil the water and sugar in a 960-mL/1-qt sauce pot over high heat until the sugar is dissolved.
Turn off the heat and stir in the cocoa powder with a whisk until it is dissolved.
Return the pot to high heat and bring to a boil again; add the cream and turn the heat down to a simmer.
Cook until thickened, about 15 minutes, stirring frequently.
Cool over an ice water bath. The sauce will keep for 4 days in the refrigerator.
Pour into 2.5-cm/1-in diameter silicone sphere molds; you will need a total of 10 spheres.
Freeze until hardened. Reserve in the molds until use.
For the encapsulating gel: Combine the water and the sugar in a small sauce pot.
Shear the Genutine into the water and sugar mixture using a handheld blender.
Bring to a boil over high heat while stirring.
Cool to about 50°C/120F° at room temperature.
Unmold the spheres. Keep 5 in the freezer covered with plastic to maintain their temperature.
Stab a sphere on its flat end, using a scribe or long needle. Dip it in the warm gel for 2 seconds and pull it out quickly. The reason it is important to keep the spheres inside the mold until the last minute is that if you don't, there will be a layer of condensation that forms on the sphere; when you dip it in the warm gel, the gel will set and slide off the sphere like a sock.
When you pull the sphere out of the gel, quickly turn the scribe to point upward so that the excess gel trickles down the scribe and you can form an even-looking sphere, without strange-looking bumps.
Dip the sphere into the cold simple syrup. This will make the gel set completely. Gently push the encapsulated sphere off the scribe using your fingers. There will be a very small hole left from the scribe, but do not worry; the liquid chocolate is not very fluid and will not seep out of the sphere.
Store the spheres in the simple syrup. Discard after 3 days.