Appears in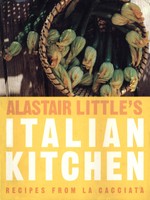 The farmhouse and all the cottages at La Cacciata have outside wood-burning bread ovens. Several are derelict, but the one behind the farmhouse is used regularly and consists of a stone domed chamber with a flagstoned floor. There is no chimney, and smoke escapes out of the small door and is drawn up a flue positioned above. Filled with burning vine and olive trimmings, this oven can reach inferno-like temperatures (500°C). When the fire dies down a little, the oven retains much of its temperature; the ashes and embers are swept to the side of the oven, leaving a clear channel of glowing flagstone on which to cook pizze.
Focaccia and pizza are amongst the most primitive of breads, indeed the word focaccia is derived from the Roman 'panis focacius' or hearth bread, a simple leavened dough baked in the ashes of a fire. I have a simple recipe for a basic dough which will make pizza, focaccia, calzone and a delicious olive-oil bread. This dough calls for a food mixer with a dough hook. A food processor can be used, but is rather a brutal process, cutting and mashing the dough rather than stretching and kneading it. Working bread dough by hand is a hard physical process, good for bust (or pectoral) development and in a manual sort of way satisfying; it also produces by far the best results.
Pizze are prepared at La Cacciata by a Neapolitan gentleman whose name is Francesco but answers to his surname Ruocco. He looks like a slightly chubby angelic version of Sylvester Stallone and cooks like a dream. He makes his dough by hand, kneading ferociously with his Popeye-sized forearms bulging. When all the donkey work is done he lets the guests have a go shaping the individual dough balls, discreetly reshaping anything he considers too amateurish.
The pizza evening at the school is a genteel version of the Sangria and Wet T-shirt evenings of a Club 18 to 30 holiday. The food is cooked and consumed by hand outside, lots and lots of wine is drunk, and everyone has a go at making a pizza and, even more difficult, getting it on to the wooden paddle and into the oven. The only people who haven't enjoyed this evening have been a couple of rather arch, over-sophisticated hackettes from London who chose their free holiday perk as a chance to be sneery. No more not-so fragrant hackettes in the future.
A great deal of nonsense is talked about Italian bread – how wonderful and rustic it is. The reality is somewhat different. Bread is sold by weight in Italy, rarely includes any salt because salt is taxed (sold at tobacconists, for some arcane reason), and it is in the bakers' interests to get the heaviest loaf he can manage. This is not conducive to quality bread. My mother described the local bread at La Cacciata as instant duck food. It does, however, make excellent toast, crostini and bruschetta.
This situation is improving as more and more Italians travel abroad and become dissatisfied with what up to then seemed a perfectly satisfactory product. The Marchesa Franca Spinola, the chairperson of the Grosseto Chamber of Commerce (Grosseto is the capital of southern Tuscany), recently refused to renew all the bakers' annual licences until they produced a loaf to her liking. She is an extraordinary person, holding a position of authority rarely accorded to Italian women. Her family make wonderful wines and on her own estate, La Parrina, she has developed quite outstanding goat's cheeses, organic fruit and vegetables, olive oil, several wines, honeys and yoghurts which she retails in her three very chi-chi boutiques in Rome.
© 1996 Alastair Little. All rights reserved.