Appears in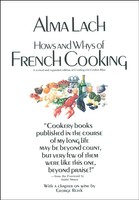 Ingredients
Butter
2 carrots, diced
1 onion, diced
2 onions, minced
1 (5-ounce) box of mushrooms, minced, about 1 cup
6 veal chops or slices
Flour
2 cloves garlic, minced
2 cups red wine
1 cup chicken stock
1 tablespoon tomato paste
½ teaspoon salt
⅛ teaspoon pepper
Bouquet garni
Pinch of thyme
24 small pitted green olives
10 large fresh mushrooms, quartered
2 tablespoons Madeira
Red and brown food coloring
Chopped parsley
Method
Put ⅛ pound butter into a saucepan. Add carrots and 1 diced onion. Cover and let simmer about 30 minutes.
Sauté 2 minced onions in a chunk of butter for 10 minutes and then add the minced mushrooms. Cook an additional 5 minutes, then cool ready to use. This is a Duxelles.
If possible, buy slices of veal cut from one muscle, or buy veal chops and remove the meat from the bones. (This may seem wasteful, but you never eat the bones anyway.) Remove any fat, then put each piece of meat on a wet cutting board and pound thin with a wooden kitchen mallet, or with rolling pin or bottom of a heavy pan. Dip mallet into water and it will not stick to the meat. Usually these mallets have a metal end, so use it for the pounding of meat. Flatten all pieces in this fashion. Spread meat with Duxelles mixture. Roll up, jelly-roll fashion. Tie in neat packages. Coat with flour and sauté in a chunk of butter in a skillet to brown all sides.
Add 2 tablespoons flour and garlic to the carrot-onion mixture in saucepan. Cook a few minutes, then add remainder of ingredients down to the olives. Once mixture is boiling, reduce heat to a simmer. Add the veal rolls. Set lid askew and simmer about 1½ hours.
Put olives into cold water and bring to a boil. Drain and rinse. (This blanches the olives and removes some of the salt.) Sauté quartered mushrooms in a chunk of butter for a few minutes and then add olives. Remove from heat.
When veal is done, put it on a hot serving plate. Strain sauce into a clean pan. Heat and then flavor with Madeira. Color a rich brown. Spoon about ½ cup sauce into the mushrooms and olives. Heat.
Cut strings from veal packages. Glaze veal with some sauce and sprinkle with parsley. Garnish platter with olives and mushrooms. Serve sauce.