Appears in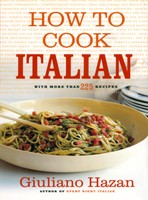 Preparation time: 40 minutes
Total time from start to finish: 55 minutes
Ingredients
1½ cups fresh bread crumbs
3 to 4 sprigs fresh oregano
1½ pounds swordfish steaks, sliced ¼ inch thick
Salt
2 tablespoons capers
2 tablespoons extra virgin olive oil, plus extra for the baking sheet
Method
Make the fresh bread crumbs.
Preheat the oven to 400°.
Chop enough of the oregano leaves to measure 1 tablespoon.
Remove the skin from the swordfish. Lightly season each slice with salt. Sprinkle with the bread crumbs, capers, and oregano, then drizzle the olive oil on top. Roll up the fish slices loosely so that the ends just overlap and secure with a toothpick.
Coat a rimmed baking sheet with a little olive oil and place all the rolls on it. Bake until the swordfish is cooked, about 15 minutes. Serve at once.
© 2005 Giuliano Hazan. All rights reserved.