Appears in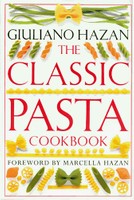 Total Time from Start to Finish: 20 minutes
Ingredients
2 cups whole milk
4 tablespoons butter
4 tablespoon flour
Salt
Freshly ground black or white pepper
Method
Heat the milk in a small saucepan until it steam is released when the milk is stirred, just before it boils.
Put the butter in a 2-quart saucepan and place over medium low heat. When the butter has melted, add the flour mixing it in with a wire whisk until you obtain a smooth mixture. Cook, stirring constantly with the whisk for 1 minute taking care not to let it brown.
Begin adding the hot milk, very slowly at first, mixing with the whisk until the mixture is smooth before adding more. When the consistency becomes quite thin you can start pouring the milk more rapidly until all of it has been added.
Continue cooking over medium low heat stirring constantly with the whisk until the sauce begins to thicken, 10 to 15 minutes. The sauce is done when it coats the whisk thickly. Season with salt and pepper and remove from the heat. Béchamel is best when used the same day but will keep overnight in the refrigerator if necessary.
© 1993 Giuliano Hazan. All rights reserved.