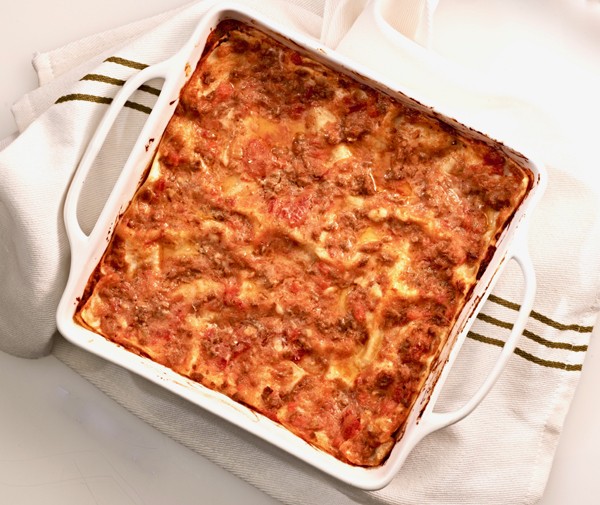 Appears in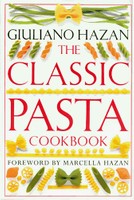 Ingredients
Egg Pasta dough made with 2 eggs and 1 ½ cups flour (add link to recipe)
Béchamel sauce made with 3 cups of milk
Salt
2 tablespoons butter
⅔ cup Parmigiano-Reggiano, freshly grated
Method
Make the Bolognese sauce.
Roll out the pasta dough very thin either by hand or with the pasta machine. Cut the sheets into approximately 12" lengths (and 4" wide if using hand rolled pasta).
Make the béchamel sauce.
Fill a pot for the pasta with about 6 quarts of water, cover, and place over high heat. Place a large bowl filled with cold water, ice and a sprinkling of salt near the stove. When the water boils, add 2 tablespoons salt and cook 4 of the pasta sheets at a time in the boiling water very briefly, about a minute. Pull them out of the water and put them in the bowl of ice water. Swish the pasta gently in the cold water to remove the excess starch and lay the sheets flat on dry kitchen towels. Continue the process until all the pasta is cooked.
Preheat the oven at 400° on the regular bake setting.
Smear the bottom of a 9-inch by 12-inch baking dish with some béchamel then mix the rest with the meat sauce. Place a layer of pasta on the bottom of the dish, spread just enough of the béchamel/meat sauce mixture to cover it and sprinkle some grated Parmigiano-Reggiano on top. Place another layer of pasta and continue the same process until you've used up all the pasta and/or all the sauce. Lasagne should have at least 5 layers and the top layer should be very lightly covered with sauce. Sprinkle generously with the Parmigiano cheese and dot with the butter. The lasagne may be assembled ahead of time up to this point and refrigerated up to 2 days.
Bake on the uppermost rack of the oven for about 15 minutes or until the top becomes lightly browned. Remove from the oven and let the lasagne rest for about 5 minutes before serving.