Appears in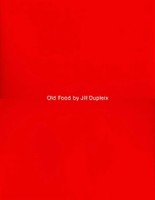 Remember the walk-in pantry? Of course you don't.
It was lined with jars of preserves and dusky spices, sacks of flour, grains, sugar and nuts, salt and pepper, strings and papers, combs of honey and baskets of onions, nuts and pumpkins; and bottles of olive oils and vinegars.
Necklaces of dried chillies, fresh garlic and herbs hung from the ceiling.
There was a shelf of baking needs, pastes, pickles and chutneys; fresh eggs - complete with feathers - resting on a cool marble slab, windfall baskets of fruit, rounds of cheese and squares of butter, tea leaves and coffee beans and all those things one had to 'store in a cool place' before we were duped into thinking the refrigerator was sent from heaven.
It was a room of stolen treats for children, and social security for adults.
It faced the right direction and kept a constant temperature, cool enough to keep winter apples in storage long into spring. Today, our pantry is the walk-in gourmet deli, a place that kindly stores all the things we didn't know we needed until we walked in. Good food stores do things for us.
They don't run out of pasta or canned tomatoes or olive oil the way we do.
They always have that special cheese, or those particular biscuits that we need.
But best of all, they are full of ideas that make our lives work.
Pick up Greek dips. Turkish bread, and masses of sliced prosciutto, and you can invite every one you know around for a drink. Get some sourdough breads, smoked salmon, and a little caviar, and throw an instant cocktail party.
Grab a bottle of extra virgin olive oil, and tubs of glossy, marinated olives, midnight-black olive tapenade, lawn-green basil pesto, juicy semi-dried tomatoes and some pasta, risotto rice, or polenta, and you will be able to feed a frenzy of friends at any time.
Good food stores also have Asian noodles, soy sauce, hoi sin sauce, and rice wine; gourmet ice creams made of fresh fruit and eggs, and even home-made custards, crisp amaretti biscuits, and toffee sauces.
But our real pantry is our ability to do things for ourselves;
to make our own pasta, yoghurt and tomato jam;
to squeeze the cream from a coconut and the milk from almonds;
to emulsify eggs into mayonnaise with olive oil, and into a buttery curd with passionfruit pulp,
to dress a salad with a perfect vinaigrette,
to pickle our favourite vegetables,
to cook perfect rice
and to poach an immaculate egg every time we want one.
That way, we can walk into our own personal pantry any time we like, wherever we are, and we will always find something wonderful for dinner.
Just as it used to be.
© 1998 All rights reserved. Published by Murdoch Books.