Appears in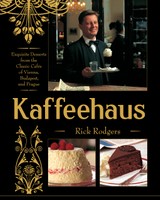 Stuffed with cheese, nuts, poppy seeds, dried fruit, or preserves, twisted into braids or crescents, rolled into disks and topped with streusel or baked into fluted loaves, sweet breads are beloved by Austro-Hungarians from Prague to Budapest and beyond.
A heavy-duty standing mixer with a dough hook has become standard equipment in many kitchens, and the recipes in this chapter use it. Note that the ingredients for the doughs are first mixed together into a mass with the paddle blade (the dough hook is not designed for mixing), gathered by hand into a ball, and then kneaded with the dough hook. However, all of these breads can be made by hand. Simply mix all of the liquid ingredients and flavorings into a large bowl, and gradually stir in enough of the flour to make a soft, sticky dough. Turn out the dough onto a well-floured surface and knead, adding more flour as needed, until the dough is smooth.
Except when using very small amounts where it's easier to measure dry yeast, I often use fresh compressed yeast for these breads. Every European baker I've ever met prefers it, because they feel more "oomph" and a milder flavor than dried yeast. However, because it isn't reliably available in every supermarket, I also give measurements for active dry yeast. Unlike dry yeast, fresh yeast doesn't require warm liquid for dissolving. If using dry yeast, warm the milk to lukewarm (105° to 115°F), as the tiny capsules of yeast need the tepid temperature to dissolve properly.
Most yeasted breads call for rising in an unspecified "warm place." This is never a problem in a professional bakery because hot ovens provide the perfect ambient temperature (about 78°F). If your kitchen is cooler, that's fine. Your dough will simply take longer to rise. I usually place the rising dough near my stove to be warmed by the heated oven or burners. Or, turn the oven on to 350°F for 3 minutes just to warm to about 100°F, and let the dough rise in the closed oven. But be sure to remove the dough before preheating the oven again for baking.
Many of these doughs are divided into buns, which should all be the same size so they bake at the same rate. One of the most efficient uses of a kitchen scale is to make uniformly sized rolls or buns. Weigh the entire batch of dough, then divide by the number of pieces you want. For example, if your dough weighs 2½ pounds (40 ounces or 1120 grams) and you want a dozen rolls, divide the total dough weight by 12. You should cut and weigh 3½-ounce or 90- to 95- gram portions.
Most professional bakeries are equipped with proofing boxes, enclosed cabinets that maintain just the right temperature and humidity for rising dough. Occasionally, when a dough might stick to a covering of plastic wrap, you can create your own mini-proofing box. Just slip the baking sheet with the formed bread into a "tall" kitchen garbage bag, and close the bag with a rubber band. If the dough seems sticky and likely to cling to the plastic, place a tall glass of hot water in the bag to keep the plastic from touching the bread (this adds humidity, too).
Unbaked sweet doughs don't freeze especially well because there is the chance that some yeast will die. If you know you are going to freeze the dough to bake later, increase the yeast by one fourth as a safeguard. But if you want to have fresh-baked sweet bread for a morning meal, there are two better options.
The best way is to bake and freeze the bread ahead of time, then defrost it overnight at room temperature, and warm it in an oven for serving. Remember that even frozen breads have a shelf life, and don't freeze them for longer than one month. The other option is to make the dough in the evening, and allow it to rise overnight in the refrigerator (don't forget to coat the top of the dough well with softened butter and cover the bowl tightly with plastic wrap). The next morning, put the dough in a warm place for an hour or two so it can lose its chill. The dough is now ready to shape and rise again as the recipe directs.
Store sweet breads wrapped in aluminum foil at room temperature; plastic encourages the bread to get soggy. If the breads do get stale, they can usually be revived with a quick trip to the oven or toaster.
© 2002 All rights reserved. Published by Echo Point.