Appears in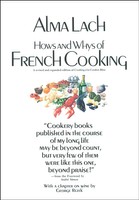 Ingredients
1 (5-ounce) box, or 1 cup, minced fresh mushrooms
Butter
Salt, pepper, and sugar
¼ cup white wine
4 fillets of sole
1 tablespoon flour
¾ cup cream
Dash of nutmeg
Method
Wash mushrooms and trim tough bottoms from stems. Mince mushrooms very fine with knife. Sauté them in a chunk of butter for about 2 minutes, then season with salt, pepper, and a bit of sugar. Remove from heat.
Melt piece of butter in oval skillet or pan. Add wine. Lay in 2 fillets. Cover with mushrooms. Top with remaining 2 fillets. Cut foil to fit pan. Coat foil with butter and place down in pan over fillets. Poach 5 minutes.
While fish cooks make sauce. Melt chunk of butter in small skillet. Add flour, cook 3 minutes, then pour in cream. Add nutmeg, salt, pepper, and a dash of sugar. Stir-cook until thickened (this is a basic Béchamel sauce).
Lift cooked fillets to hot oven-proof platter. Strain pan juices into sauce. Stir and then spoon over fillets. Brown under broiler. To serve, cut across middle of each fillet, making 4 servings. Serve with sauce.
Wine
Niersteiner (German)
,