Appears in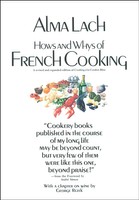 Ingredients
⅛ pound butter
½ cup water
Salt
½ cup flour
2 whole eggs
½ pound pike fillets or others
4 egg whites
Dash of pepper
Method
Bring butter, water, and ⅛ teaspoon salt to a boil. Remove from heat. Stir in flour to make a thick paste. Set over heat for 1 minute and stir.
Remove from heat. Add 1 egg at a time, beating mixture well after each. Pour into a shallow dish and cover with transparent wrap to prevent a crust from forming. Refrigerate until cold. (This is a pâte à choux.)
When dough is cold proceed with the recipe. Dry fillets on paper towels, then cut into pieces and blend in blender container. Add all but 2 tablespoons of cold dough. (There should be equal amounts, by weight, of puréed fish and of chilled dough.) Blend well. Add 2 whites, ⅛ teaspoon salt, and pepper. Blend, then add another white and still another if the dough will hold one more. Make and cook quenelles as in Quenelles de Poissons No. 1. Test one, then adjust recipe if necessary. Use in other recipes, or in Quenelle sauce. Add 1 minced truffle to the sauce if you wish.
,